We at OutsideBondage.com tickle and humiliate not only teen girls but also mature women. We tie our victims up in the English countryside, strip them off and throw them into the snow, or humiliate them naked in public... Our pictures and films are original and we only show quality stuff.

| | | | | | | | | |
| --- | --- | --- | --- | --- | --- | --- | --- | --- |
| HOME | Teen Girls | Young Women | Mature Women | Specials | Films | Links | Contact | MEMBERS |
Members get over 280 new images every week!!!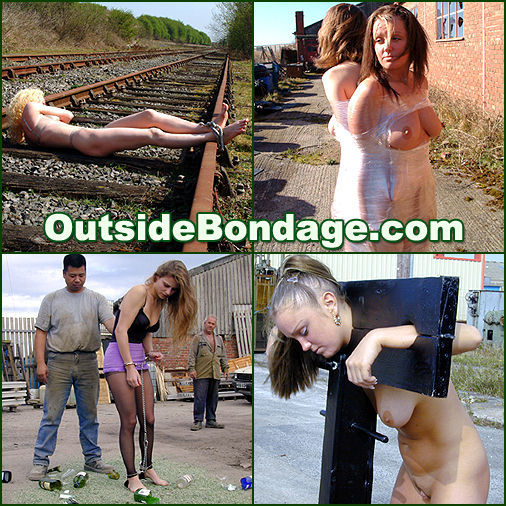 Below, only few little previews of the great stuff available in the Members Area right now:
OutsideBondage.com is all about tied up women, nude discomfort, UK outdoor bondage, bondage in public, nude outside and public nudity, public nude bondage.....
We show pictures and videos of females in distress, hog-tied, chained up, handcuffed, hanging, sweating in the stocks, helpless females tickled, whipped outside, spanked naked, forced naked into the snow, shivering, walking barefoot on glass, humiliated in public, tied in mud, hanging from trees... We show scared sluts, outside bastinado, outdoor pissing, screaming in public, stocks in public, spanking, tickling, women running, sweating, all sorts of bondage, and tickling.
We give you bondage, nude in public, flashing, and other pictures, videos, live web cams with live audio, live dungeon room, lesbians live, daily updates...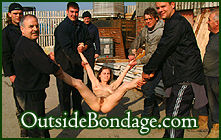 There are Over Eight Thousand Images in the members area now and our archives are growing constantly. Over 8,000 pictures is not all you will get as a member. Members also get daily updates, at least 3 new bondage galleries every day, one new big bondage collection picture every day, printable on up to A3 sheet, access to OutsideBondage video clips, and more.
Become a member now and also get 4 new galleries and 2 large images printable up to A4 sheet EVERY DAY!!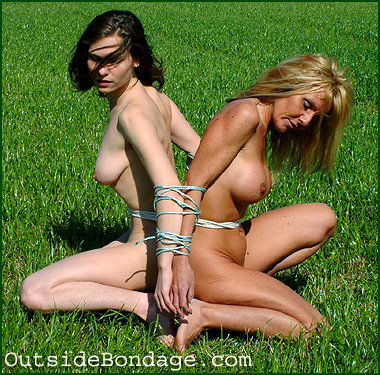 Get Full Access to Everything for $19.95 per month, or even less!
One Time Billing is Available. We accept all major credit cards and debit cards, checks, or direct debit payments!!